At Your Service –
The Team
Patty Lemke,
CPCE, CEO
"Seeing the team I work with excel and helping them achieve their goals makes me very proud." 
Patty's Bio
Patty Lemke considers her time with Kelber Catering as the highlight of her 35-year career in hospitality. Her journey began in sales for a hotel in far-away Texarkana, Texas. In 1993, Patty joined Kelber Catering and in 1996 opened a sister company, Monona Catering in Madison, WI. During her 20 years at Monona, Patty developed her servant style leadership that shares power, puts employee needs first and helps people perform at their best. She is now CEO of both award-winning companies. In her current role, Patty guides a nationally-recognized team of professionals committed to providing exceptional guest experience using the highest possible standards for creative, sustainable menus and superior service.
"You can count on us doing whatever it takes to make sure the customer is happy, satisfied, and well taken care of." 
Patty is the point person within the facility in regard to services but adds that she has no need to micromanage because, "We have seven directors who do an outstanding job."
Patty takes great pride in working at Kelber Catering due to its ability to provide a fantastic experience for its guests. Patty echoes this same experience in her home life where she loves cooking for family and friends and seeing the delight it brings to them.
John Doody,
Executive Chef & Culinary Director
"I love the capacity, variety and creative options we are able to accomplish here at Kelber."
John's Bio
As the Executive Chef and Culinary Director of Kelber Catering, John Doody has high standards, enjoys developing exciting, contemporary menus, and maintains a calm temperament, all of which are important to running a kitchen that can serve thousands of meals daily.
"You won't see the issues you find in other high-volume kitchens. Our staff knows why they are here and they enjoy what they do."
With over 43 years of service in the culinary industry, Chef John has been with Kelber Catering for 23 of those years. He leads his award-winning culinary team with an open mind to new concepts while communicating the importance of food and equipment safety, responsible use of resources, and camaraderie throughout the company.
"Sometimes I hear a client's request and think, 'How will we make that work?' then I wrap my head around it and we always find a way to make it happen!"
John embraces the challenges and unique characteristics of high-volume catering.  Special dietary requests or menu alterations are not an obstacle with this gifted chef. He works closely with the sales team to make sure the menus are to client specifications. Whether  serving 75 or 2500 guests, an array of hors d'oeuvres or a five-course plated meal, each client receives the same detail-oriented attention from Chef John and his crew every time!
Linwood D. Campbell, CPCE, DFS,
Director of Sales and Marketing
"Having a servant's heart is not about serving, but making a difference in everyone's life you touch."
Linwood's Bio
Linwood is a 35-year veteran of the catering and event industry.
He started in the hospitality industry as a housekeeper and quickly worked his way up through the operations side of the industry to land his first director role in 1990. He has held senior leadership roles for such industry icons as Hilton, Starwood Hotels and Resorts, Intercontinental Hotel Group and Caesars Entertainment. During his career he has booked and coordinated events for celebrities, international dignitaries and 4 former presidents. Linwood genuinely believes his professional calling is to work with clients to create unique experiences that evolve into eternal memories. 
Linwood's passion for catering and events allowed him to become immersed in the National Association for Catering and Events (NACE), ultimately serving as National President in 2014-2015. In 2007 he received his CPCE, Certified Professional in Catering and Events, from NACE and in 2015 he received an honorary DFS, Doctorate of Food Service, from the North American Association of Food Equipment Manufacturers (NAFEM) in recognition for his contribution to the industry. Having this international network of contacts allows Linwood to share trends in catering and events from around the world with the clients he works with in helping to make their event vision a reality.
During his personal time, Linwood loves spending time traveling and creating lasting memories with his family.
Sue Andrzejewski,
Director of Catering Operations
"Success at Kelber is measured singularly in order to achieve the collective good on behalf of a client."
Sue's Bio
Having shifted interests into a career in the hospitality industry in 2001, Sue lost no time moving up through the Kelber ranks from an on-call banquet server to the Director of Catering Operations. At no time has she forgotten where she began and recognizes the potential impact everyone on the Kelber team may have with our guests.
Successful high-profile events, such as Microsoft, RNC, Super Bowl, MLB All Star Game & NCAA Final Four, are certainly feathers in her cap; the real reward is that in practice, those experiences are what all of our clients can expect.
Sue has a depth of understanding that comes by having engaged with a plethora of clients. Event size is no barrier for Sue as she works to incorporate the guests wow experience in every aspect of the client's event.
Sue's detailed and thoughtful planning, which begins weeks, or in some cases months, before the event, when she draws on her knowledge and experience as to the best plan of action, for each particular group. With an eye on innovation, Sue has the attendee experience in mind, so that every room walked into, will stay with that attendee long after they walk out.
Sue leads her team with a deep sense of integrity, encouraging them with on-going training and positive, constructive feedback. She is always striving to lift up, yet recognizing the struggle an individual might be experiencing and being present for support.
When not immersed in planning or executing events, Sue enjoys being with her family, traveling to places she hasn't been before and winning the next round of cribbage with her husband.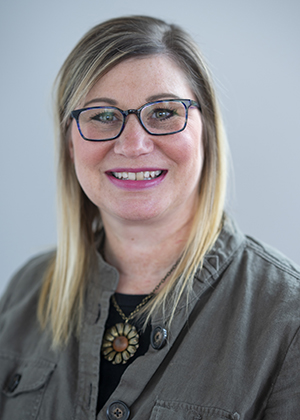 Nicole Dudziak,
Director of Retail Operations
"I enjoy the diversity of each event, every day is unique and our team is amazing to work with!"
Nicole's Bio
Nicole started her career with Kelber Catering over 2 decades ago processing payroll. After years of working "behind the scenes" she had a desire to work hand and hand with the guests coming into the building to attend their private event or spend time in a public event. She succeeded that desire as becoming the Director of Retail Operations, overseeing all of the cash outlets operating in the building.
It is exciting to watch the guests enter the building possibly having that day marked in their calendar as a highlight of their week, month or perhaps their year!
Nicole has built great relationships with the multiple partners inside and outside of the MCC, she grew up with these amazing people and is proud to call them friends and family.
Connie Weigel,
Director of Purchasing
"It's exciting to be part of such a huge variety of events-from creation to completion!"
Connie's Bio
Connie has 40 years in the foodservice/ hospitality industry, 31 of those years specializing in purchasing, product and menu development for Kelber Catering, the contracted catering/ foodservice located in the Minneapolis Convention Center. Connie joined the Kelber Catering team in 1990, where she successfully organizes specs and product acquisition for catered events ranging from 10 – 8,000. Working closely with the chefs and culinary team, menus are kept current, fresh and on-trend. In regards to sustainability, Connie initiated "going green" in 2009 and she has been directly responsible for sourcing and expanding the quality sustainable disposables that are in use today.
Connie teamed with Mark Zirbel and Chris Larson of the MCC, assisting in the first stage of MCC Sustainability & Green certification.
In 1996, Connie started working with the Monona Catering team of Patty Lemke and Chef Matt Reichard, when the equipment, design and menu development started. Connie assisted in the opening of Monona Terrace, from receiving all smallwares and equipment through grand opening weekend in July of 1997. Connie has continued direct involvement with the Culinary Team for Monona Catering, specifically with quality product specs, menu development, and cost analysis until 2009 and continues indirectly with them today.
Her prior experiences varied from a restaurant management company (6 years working with the chefs & managers of 5 hotel restaurants, with restaurant, room service, and banquet menus), to two years in a hotel with nightclub and theatre. She has assisted in the opening of three locations and the nightclub.
Melissa Hare,
Director of Finance
"The support of an amazing team makes even the most challeging task achievable!"
Melissa's Bio
Melissa started her career with Kelber Catering in 1998, working hospitality during the summer while in college.  Soon after earning her BA in Business & Economics, she transitioned to management doing payroll for union staff.  For 20 years, Melissa has worked in various capacities within Kelber's Business Office; fostering relationships, learning the inner workings of HR and Finance departments and implementing various software upgrades.  With great mentorship and opportunity to grow, Melissa achieved her goal; becoming Director of Finance in January 2021.
When she is not busy at work in the office, she enjoys spending quality time with her family and heading up north to the campground whenever she can.
Thérèse VanBlarcom,
Director of Human Resources
"When staff are working in a bustling building, I'm all smiles knowing they're providing for their families."
Thérèse's Bio
Looking out for others comes naturally to Thérèse VanBlarcom; her history includes serving on her local school and library boards and in hospital/clinic settings. In 1996, Thérèse began part-time work with Kelber as a server and bartender. Through serving others, Thérèse understands how important it is to show respect and appreciation to everyone, as well as receive it.
"We've built a strong HR department at Kelber by balancing staff and employer needs equitably across the board."
As Director of Human Resources for Kelber, Thérèse places her energy and compassion into advocating for union staff while working collaboratively with Kelber management. She sees each employee as an individual and feels that HR, at its core, is about service to others.
When Thérèse walks the Convention Center she is extremely proud that her family has been a champion for the Minneapolis Convention Center since the very beginning and continues to do so today.
Nick Gundlach,
Assistant Director of Sales and Marketing
"The operations background at Kelber is so strong which helps greatly in the event planning process."
Nick's Bio
When Nick was 18, his brother got him a summer job bussing tables at the Madison Club in Madison, WI. It was there he developed a dedication to customer service and hospitality. After two summers at the Madison Club, Nick moved to the Twin Cities to further his career within the food and beverage industry.
Nick accepted his first hotel position in the Twin Cities as a Banquet Houseman and after thirteen years and a series of promotions within the same property, he sought the next step in his career. In December of 2017, Nick joined the Kelber Catering team as a Sales Manager.
While Nick admits to being a bit of a character and is always up for a laugh, he first and foremost prides himself in customer satisfaction and is ready to assist his clients any way he can.
"I'm always a phone call, email or text message away and I highly encourage my clients to reach out with any questions they may have."
Stephanie Case,
Sales Manager
"I am always looking for new things, new ideas, and what is trending. Yes, I am a foodie!"
Stephanie's Bio
Learning the hospitality industry by working at her uncle's downtown Minneapolis restaurant, Stephanie Case had no idea she began a job that would lead her in to a very fulfilling and successful career.
Stephanie walked into the doors of the Old Minneapolis Auditorium in 1979 as an on-call bartender for Kelber Catering. From there she grew her knowledge and love for food into continuous promotions with Kelber until she landed as Sales Manager in 2000 and planted her roots.
"Kelber Catering is my second family.  I grew up here."
Her knowledge of good food, culinary trends, and an adventurous palette contribute to the endless possibilities within the Kelber kitchen and her own! Stephanie embraces challenge, especially when new menu planning season arrives. She is known for her subtle demeanor, get-it-done attitude, and always being just around the corner to assist clients.
Stephanie's contributions to Kelber stretch far beyond the sales office. She prides herself in bringing new recipes to the catering table.
When turning off the light at Kelber you will find Stephanie at home spending time with her grandchildren, tasting new wines from her cellar, and surfing the web for her next new food creation.  She loves preparing fresh dishes for her husband, who is a retired professional chef.
Erin Pugh,
Sales Manager
"When you work with an amazing team, the possibilities are endless."
Erin's Bio
Erin started her career in the hospitality industry while living in Naples, Florida.  She started at a country club and quickly grew with the company.  Holding a few different positions over the 10 years there, she learned the ins and outs of food and beverage.  Erin learned she had a knack for hospitality as well as customer service.
Erin moved back to Minnesota where she dove into the hospitality world.  She worked for the Hyatt Regency, where she oversaw both the outlets and the banquet department.  After working there for over 5 years, she switched roles and company to learn the other side of events, as a sales and catering executive.  She worked at Treasure Island Resort and Casino, where it gave her more opportunities to grow her career. "I learned quickly that I like to see events from start to finish."
Customer service comes naturally to Erin, but she is motivated to continuously learn and grow within the ever changing world of hospitality.
Christina Lasso,
Sales Manager
"Life is not easy for any of us. But what of that? We must have perseverance and above all confidence in ourselves. We must believe that we are gifted for something and that this thing must be attained." – Marie Curie
Christina's Bio
Christina comes to Kelber Catering by way of Tampa, Florida, where she graduated from the University of South Florida with a Bachelors in Communication. Starting her career with ZooTampa at Lowry Park, she learned the ins and outs of what it takes to market a non-profit.
After helping rebrand the zoo from Tampa's Lowry Park Zoo to ZooTampa at Lowry Park, Christina combined her skillset with her love of pop culture and the fan community, and dedicated her time to coordinating comic conventions. After a brief stint in insurance, Christina found her place again in the hospitality industry with Kelber Catering.
With nearly a decade's worth of experience spanning from public relations to event management, she brings a wealth of knowledge and skills to the Kelber team, ready and excited to help make an impact!
In her spare time, Christina can be found baking treats for her family or trying new restaurants in the Twin Cities area. She's always up for new recommendations!
Shane Streitz,
Executive Sous Chef
"My work philosophy is to be a leader, not a boss, by getting in there and doing the hard work with everyone." 
Shane's Bio
Shane Streitz started his career with Kelber in the Shipping and Receiving department in 2003. Shane asked the General Manager of Kelber how he could move up in the company, and they made the generous offer to send him to culinary school!
"I have been given the chance to run each department in the kitchen, giving me a comprehensive picture of what everyone goes through to create a successful meal."
After completing his degree, Shane worked his way up to the position of Executive Sous Chef. He is indispensable to the Executive Chef by staying ahead of what is needed. His duties include managing a large team of cooks, ensuring all recipes are prepared to the highest standards, and menu development.
Shane describes himself as a fast-paced person; this not only suits the non-stop kitchen environment but also feeds his enjoyment of mixed martial arts which helps him relieve stress.
Nicole Sandlin,
Executive Pastry Chef

"I love Kelber, because we share the view of taking pride in our work and achieving a high level of quality."
Nicole's Bio
It takes a lot of skill to balance beautiful and delicious when you are working in quantities of 10,000. Executive Pastry Chef Nicole Sandlin calls her pastry team "the smallest but mightiest department in the Kelber kitchen".
Nicole started out as a chemical engineer in California. Her path to pastry began when she moved cross-country to Chicago and enrolled in pastry school. In the Windy City, she worked at a high-end hotel where her talents matured working under 5 chefs who shared their knowledge, recipes and techniques.
"The most important part of my job is being able to put all the moving parts together: to know what needs to be done, when it should be done, and by whom."
Nicole was looking for a management position when she moved to Saint Paul and joined Kelber Catering as the Executive Pastry Chef. Nicole and her team make sure the first plated dessert looks and tastes as amazing as the last one that leaves the kitchen.
Nicole is a world traveler and has spent a lot of time in Asia. She loves experiencing different cultures and, of course, tries desserts in every place she visits.
Amy Maddy,
Pastry Chef
"While we are developing our deserts, I enjoy exploring the layers of flavor and texture. Our team works very collaboratively to explore new ideas and combinations for us to offer our guests."
Amy's Bio
Amy first started with Kelber Catering in 2003.  Her work with the cold food prep department allowed her to witness the flow of ordering, delivery, food preparation, display, and finally guest interaction.  She moved to the bakery department in 2009 and worked her way up to Pastry Chef.
It is interesting to see all the ways that our separate departments come together to create a great guest experience.  While each department works to create the best products that we can, there are times when workflow is difficult.  We all step in to pick up the slack if someone falls behind.  The goal is to never let the guest know that anything did not go to plan.
In 2020 when there were no events at the Convention Center due to Covid, Amy worked with a local bread bakery and flour mill.  This gave her a deeper understanding of flours, and bread production. 
"I came to baking with an interest in bread and a passion for learning new techniques.  The common nature of bread appeals to me.  It is basic.  It comforts and nourishes us.  Bread is a part of a meal that can easily be overlooked, but can really enhance the experience."
In her free time, Amy likes to explore color and texture in fiber arts.
Brad Sanborn,
Retail Sous Chef
"The team atmosphere here is unmatched; everyone knows what they need to do to make everything run smoothly."
Brad's Bio
Brad started his cooking career by first attending culinary school while working as a short order line cook. After completing school, he was looking for something more challenging to hone his cooking skills. Kelber was a great fit considering its high volume events and a higher standard for food and service. Brad has been with Kelber since 2016, starting as an on-call employee. In 2018, he was promoted to management and was a great addition for the Super Bowl Experience that followed. With his new title, Brad's duties include: managing exhibit hall food outlets while making sure food is served to its highest standard, menu development, and setting a high standard in regards to customer service.
"Being a leader is something that he takes a lot of pride in. Keeping a high morale in the kitchen and leading by example are two big parts of my management style he incorporates on a daily basis. Working at Kelber has been a great experience and opportunity.
When he's not at work, Brad enjoys watching Minnesota sports. He is an avid Minnesota Wild and Vikings fan.
Leo Boone,
Chef Garde Manger
"Everything's going to be all right, no matter what"
Leo's Bio
Leo would classify myself as somewhat of an autodidact, learned to cook from the 'School of Trial & Error at Hard Knock University'.
His culinary career started as a line cook in a casino kitchen, then came to Kelber in July 2011 as a line cook, then promoted to Pantry Sous Chef in March 2012. Working at Kelber has taught him to be more patient, yet being cognizant of issues that arise and learning mechanisms to handle them effectively.
He believes building relationships with his colleagues and staff fosters an environment that allows each to learn from each other, which translates to increasing efficiency and accountability, and that permits the team to depend on each other while getting through the busy times.
He has a vast array of hobbies and interests that keeps my mind and body moving and learning, but also affords him the opportunities to wind down when not working.
Tim Monteto,
Sous Chef
"Take time to be present in every moment as every moment is constantly changing."
Tim's Bio
Tim is originally from Chicago. He is the son of a Military Veteran and his mother is from the Philippine's. Tim started his career when he was in high school by observing his mother and grandmother cook their amazing food. He was always inspired by them constantly because they instilled in him to always be grateful, caring and understanding. Tim is a proud graduate of Hennepin County Technical College. He began his career as a line cook and with his exceptional friendly "make it happen" attitude, worked his way through the ranks of the kitchen to hold culinary management positions for Hyatt Hotels in Arizona, Philadelphia, Minneapolis, and La Crosse Wisconsin. He has worked for Taher Inc at the Blake School. Birch Trail Camp, Be Grateful Bakery and you may have seen him during the Superbowl weekend representing Smashburger.
Tim's weather of knowledge and decades of experience will elevate our client's experiences and Kelber's culture of responsibility, accountability, diversity, and inclusion.
Daymara Sanchez,
Employee Dining Manager
"Live each day to the fullest!!!"
Daymara's Bio
Daymara began her career in 2001 and quickly moved to assisting in the opening of our associate dining room. As the focus of the dining area grew, the general manager offered her the position of managing the associate dining room. She is proud to say she has worked hard to grow the menu offerings into a desired dining option for associates and building contractors.
As Daymara continues to develop my culinary skills and leadership skills she welcome the opportunity to share her talents with those who spend time with her in service to our associates. She enjoys the connections and opportunities to impart the lives of those she encounters.
In Daymara's spare time she relished in spending time with her family and doing small improvement projects to her home.
Luis Florez-Huezo,
Stewarding Supervisor
"Working at Kelber is like working with family every day."
Luis's Bio
Luis started working at Kelber as a union employee and successfully made my way into management, making the best of opportunities before me. He established himself as a professional with Kelber Catering in a supportive environment where his peers rely on the experiences he brings and what he adds to the workplace culture at Kelber Catering Inc.
He is lucky enough to supervise a very diverse employee group and sharing the collaborative experiences is incredibly enriching. Listening to the stories of his colleagues, opens doors to places and spaces he has not been exposed to.
When he not working, Luis enjoys spending time with his family and supporting his kids in their activities and sports.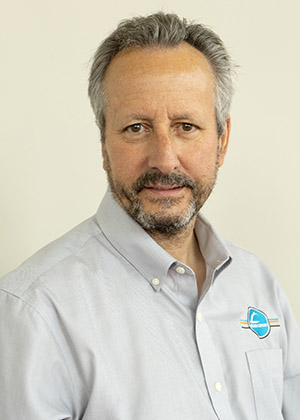 Pat Lynch,
Purchasing
"Being a part of this great Kelber team can be challenging but its exciting to see the outcome of all our hard work."
Pat's Bio
Pat has worked with Kelber for over 25 years. He is responsible for all the ordering of the amazing products for our culinary creations. Pat has watched Kelber grow and evolve to what we are today. Prior to joining Kelber Catering Inc. Pat was in management roles with North East Metro College, Hardee's and Northstar Hotels. Pat is a veteran and we thank him for his service to our country!!!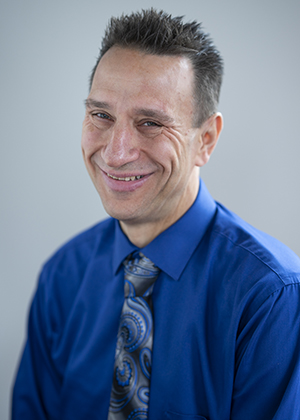 Dan Bruder,
Sr. Banquet Manager
"The diversity of Kelber staff and guests gives you unique experiences every day."
Dan's Bio
After 10 years of sales for Schwan's Foods and Sysco MN, Dan started his career at Kelber Catering in 2007 as an on-call banquet server. When opportunity presented itself in 2011, Dan became a banquet captain where he uses his strong customer service and people skills to lead a team up to a 100 staff in servicing and providing positive experience for our guest.
In 2015, Dan became Kelber Catering's banquet manager.  His dedication to provide high-quality customer service, whether it is room set up, meal service or simply a kind gesture is clear to all who meet him.  Dan approaches everything he does with great integrity. He spends countless hours in preparation and planning to ensure an exceptional guest experience.
Dan states the variety of clients and the range of events create an atmosphere where each day brings something different. That's big reason why he enjoys working for Kelber.
Away from the action at work you will find Dan on a basketball court, playing disc golf, or planning his next trip.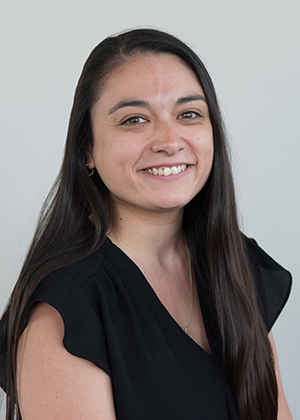 Vanessa Leverentz,
Banquet Manager
"It is exciting to see the way Kelber works together as a team. How every different part comes together to achieve success is amazing to be a part of."
Vanessa's Bio
Vanessa started her career in hospitality with Kelber Catering as an on-call banquet server in June of 2016 at 21 years old. Her first event worked was the Best Buy charity event, for over 2500 people. Throughout her years at Kelber Catering, she worked for various departments including the concession stands and Dunn Brothers Coffee. From greeting customers and cashiering, to preparing food and becoming a barista. Working her way up in the catering department, she became a Banquet Captain in 2022. In April of 2023, Vanessa accepted a position as Banquet Manager. Throughout her time of leading a team from 1-100 employees, she is learned kindness and a positive attitude go a long way.
Since 2015, she has volunteered and worked for non-profit organizations helping with planning and preparing fundraising events. She has been involved with everything from raising money for medical missions, to touring event spaces for fundraisers.
Outside of work you can find Vanessa enjoying time with her family, going to any Minnesota sports game, or trying the next new restaurant in town.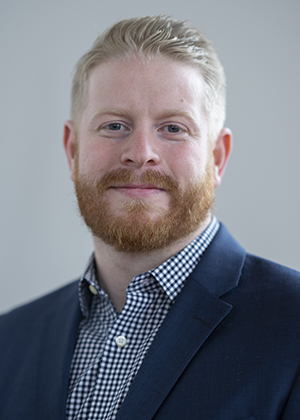 Chris Babcock,
Retail & Bar Manager
"No day is perfect, Team Kelber is always there to back one another up."
Chris's Bio
Chris joined the Kelber team in the spring of 2007. Starting as an on-call bartender and working through the front of house departments, Chris gained a wealth of knowledge & experience in customer service, hospitality, convention and retail operations as well as restaurant trends.
Chris used his vast knowledge of the operations to collaborate and lead the charge to opening of Dunn Brothers Coffee and The Craft Bar and Lounge. A pinnacle and very proud moment in Chris's career was hosting The Super Bowl LII Tailgate party we executed multiple events over multiple days as well as a very ambitious and successful room turn to host a Superbowl Afterparty for thousands of guests.
Though each day is never the same, most days you will find Chris on the operations floor, making sure everything is running seamlessly and that Kelber's family of associates are exceeding the guests' expectations.
Chris embodies: "Bring reliable isn't something you do, it's who you are" .
In his free time, he enjoys camping with his family, biking, backpacking and anything nature.
to begin planning your extraordinary event today!